Key events
90+4 min Belgium have 20 seconds to comply.
90+3 min Gvardiol is 20 years old. Spoiler alert: he's not going to be at RB Leipzig next season.
90+2 min: Amazing defending from Gvardiol! A deep cross from the left ricochets back across the area towards Lukaku, who is about to leather it into the net from four yards when Gvardiol stretches to make a stunning tackle. Absolutely brilliant!
90+1 min Four minutes of added time. Croatia bring on Lovro Majer for Mateo Kovacic.
On that Lukaku chance, Dejan Lovren is so lucky because he made a Horlicks of a fairly routine defensive header.
90 min: Another chance for Lukaku! This is astonishing. Thorgan Hazard's brilliant cross beats the leaping Livakovic at the near post; Lovren misses his header and the ball hits Lukaku, five yards out in front of a completely open goal, before rolling miserably into the arms of Livakovic.
89 min "When did the term 'golden generation' start getting so liberally applied?" wonders David Wall. "I first remember it used about that group of Portuguese players including Rui Costa and Figo, almost all of whom had played together in winning (I think) one of the World Cups at youth level.
"That makes sense, that specific group had actually won something, and then continued as a group into the senior side. But since then it just gets applied to any group of good players all around the same age, whether they progress through the age group teams together, and whether they ever win anything. All it does is create unjustified expectations."
Funnily enough I'm researching this for the Knowledge. I also think it started with that Portugal game. I have a vague memory of Adam Crozier being the first person to use it in reference to England. All will be revealed in a future Knowledge. Wait, come back…
88 min That Lukaku chance was probably a bit harder than it looked. Even so, he has had two, maybe three, terrific opportunities since coming on at half-time.
85 min: Belgium substition The former artist known as Eden Hazard replaces Thomas Meunier.
87 min: Lukaku misses from four yards! Unbelievable. A cross from the left is headed up in the air and drops to Meunier on the right side of the area. He cushions it towards Lukaku, who can't sort his feet out quickly enough and flicks the ball this far wide.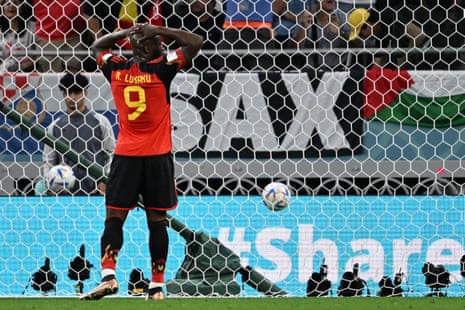 86 min Nothing comes of the corner.
85 min After a mix-up between Gvardiola and Livakovic, De Bruyne's cross deflects into the side netting. Corner to Belgium…
84 min Doku beats Juranovic with thrilling ease on the left, but his cutback is poor and Brozovic heads clear.
83 min Gvardiol's inadvertent backpass is saved comfortably by Livakovic. Belgium want an indirect free-kick but it wasn't deliberate.
82 min Croatia have kept Belgium at arm's length for most of the second half. There have been one or two moments, most notably when Lukaku hit the post, but on balance Croatia deserve at least a draw.
81 min Kovacic wanders infield from the left and plays a superb pass to release Juranovic on the right side of the area. His cutback, alas, is dreadful, straight to Witsel.
79 min Perisic's teasing cross is headed away crucially by Castagne at the far post. This is terrific stuff.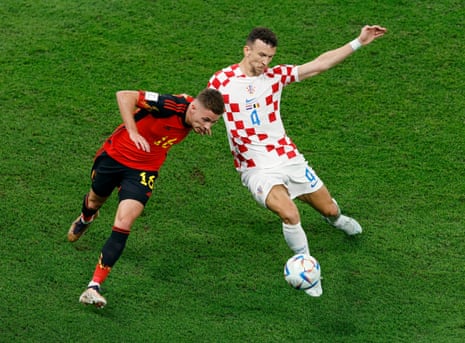 78 min Thorgan Hazard's corner is headed off Pasalic and over the bar by Vertonghen. Anthony Taylor gives a goalkick, a decision with which Vertonghen is not entirely enamoured.
77 min A neat lay-off from Petkovic releases Perisic on the halfway line. He runs all the way to the edge of the Belgium penalty area but then dithers and it was tackled by Vertonghen. That was unusually indecisive from Perisic.
77 min "Commentators being very harsh on Lukaku on the TV," says Richard Hirst. "He was on the half turn and had to keep the ball away from the reach of goalkeeper and defender; I reckon he did as well as he could."
I mean, Gerd Muller would have scored it, but I know what you mean. It wasn't an open goal.
77 min "Croatia might want to consider scoring and putting Belgium to bed," says Mary Waltz. "Croatia is the better team but KDB and a real target striker is a scary thing."
76 min Perisic does absurdly well to win the ball near the byline and find Petkovic, but his shot is blocked.
75 min Croatia look reasonably comfortable just now, though the mood can change very quickly in a match like this.
74 min What a time this would be for Kevin De Bruyne to assert his greatness. Though there are exceptions, most notably against Brazil in 2018, he hasn't always been brilliant in the stratospheric matches.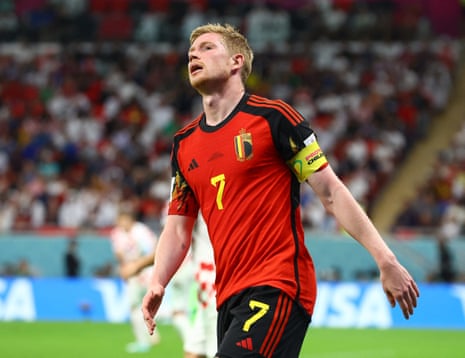 72 min: Double substitution for Belgium Youri Tielemans and Jeremy Doku replace Leander Dendoncker and Yannick Carrasco.
71 min Croatia's midfield three have kept the ball beautifully at times in the second half.
70 min Romelu Lukaku is a strange mix of the unstoppable and the vulnerable. At his best he's frightening, but most of Belgium's exits from major tournaments have involved him missing a sitter.
69 min De Bruyne clips a rising drive on the run from an absurd angle. Livakovic's positioning is good and he saves comfortably.
68 min Courtois leaps to his left to make a comfortable save from Modric, who did well to improvise a flicked shot from just inside the area.
67 min Dendoncker is booked for a foul on the increasingly influential Kovacic.
67 min Here's Big Rom's first chance.
66 min "A 104-game World Cup," muses Chris Ward. "Why not just go the whole hog and turn it into a Swiss league format?"
65 min The first half was almost entirely malodorous, but it's a cracking game now.
64 min: Double substitution for Croatia Mario Pasalic and Bruno Petkovic replace Andrej Kramaric and Marko Livaja.
62 min: Another chance for Lukaku! De Bruyne's cross from the left nicks off the head of Lovren, taking Livakovic out of the game in the process, and is headed over an open goal by Lukaku. That really was a sitter, although I'm not sure it would have counted – it looked like the ball was out of play before De Bruyne crossed it.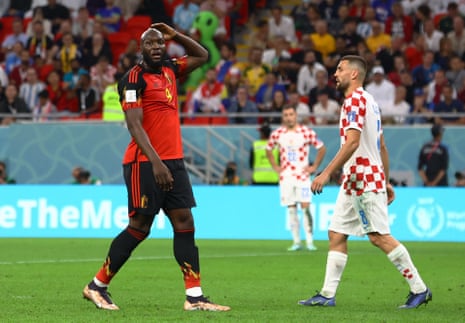 61 min: Lukaku hits the post! What a chance for Belgium! De Bruyne put Carrasco through on goal with a subtle, angled through pass. His shot was blocked brilliantly by Juranovic, stretching just in front of the goalkeeper, and Lukaku slapped the loose ball off the inside of the near post! It wasn't an open goal – the keeper Livakovic was back on his feet and there was a defender nearby as well – but it was still a helluva chance.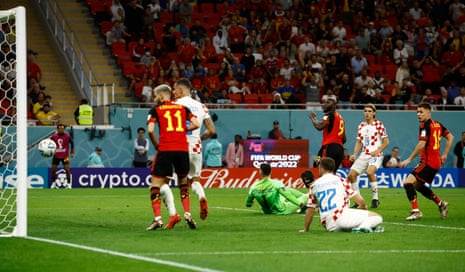 60 min "I certainly understand the logic behind keeping the World Cup at 32 teams," says Matt Burtz. "However, I do think its expansion to 48 is beneficial. There are currently 211 FIFA member nations, so even with the expansion not even a quarter of nations will qualify. It's not like the Faroe Islands are going to be up against Brazil.
"Also, if this World Cup has shown anything, it's that so-called lightweights can certainly mix it up with the big boys. Almost everyone agrees that Africa is underrepresented, and South America could absolutely merit another team or two coming in. Throw in a few more from Europe and I say you have a pretty good mix."
One hundred and four games though. I'm still in therapy for the 2007 cricket World Cup, which went on forever.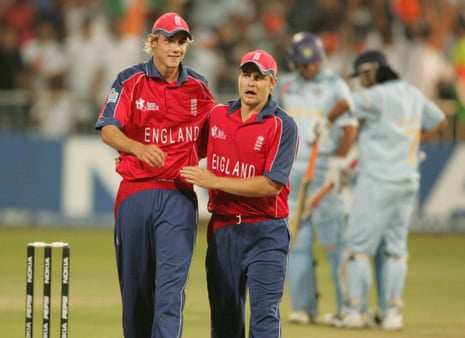 59 min: Belgium substitution Leandro Trossard is replaced by Thorgan Hazard.
57 min Croatia are much the better team at the moment. They work the ball nicely through midfield again, but then Sosa overhits his cross.
57 min "Right idea to ditch the pointless groups of three bonfire of a plan," says Steve Murray. "But wrong to put the best eight third-placed teams into a knockout round of 32. Far better to send the top two from each group through but to give the top eight a bye. The remaining 16 would play off to reach the last 16 proper against the best eight. Would mean no second strings for the final group games as they'd be playing for a few extra days' rest."
Though I like the logic, that sounds a bit too much like the IPL. Then again I suppose you could say that about the best third-placed teams going through. I'm sure we agree on one thing: 104 games is no way to treat your golden goose.
54 min: Two more good saves from Courtois! This is a decent game now. Brozovic curls a low shot from 20 yards that is shovelled away by Courtois, plunging to his right. Moments later he makes his third good save of the half, again diving low to his right to push away Modric's left-footed shot.
51 min After good hold-up play from Lukaku, who looks sharp and up for it, De Bruyne shoots over from 20 yards with his left foot.
50 min The corner is taken short and half cleared to Sosa, who blisters a half volley over the bar from distance.
50 min: Good save from Courtois! They were almost two goals away. Gvardiol rumbled forward and stabbed a pass to Kovacic just inside the area. He took a touch and spanked a rising drive that was pawed over the bar by Courtois. A good save, though one he'd expect to make.
50 min For all the doom, gloom and ageism, Belgium are one goal away from the last 16.
49 min De Bruyne stands up a deep cross that is headed straight at Livakovic by Lukaku. To be honest he did well just to win the header.