"They obviously know where I am," he said.
His arrest is now poised to set up a battle over his extradition. On Thursday, federal prosecutors in the Southern District of New York charged Kwon with eight counts of fraud. Authorities in his native South Korea have also accused him of financial crimes.
South Korea plans to "proceed with the extradition process in accordance with the law and international agreements," the country's Ministry of Justice said in a statement Friday.
A year ago, Kwon was one of the richest and most powerful figures in the crypto industry. After graduating from Stanford University with a degree in computer science, he started Terraform Labs, which issued two closely linked digital currencies: TerraUSD, a stablecoin with a price of $US1, and Luna, a more traditional cryptocurrency with a fluctuating value.
TerraUSD was designed to maintain its $US1 value through financial engineering that connected it with Luna. The coins became wildly popular, and the value of all the Luna in circulation climbed to $US40 billion as the crypto market boomed in 2021 and early 2022.
Kwon cultivated a brash persona on Twitter, dismissing critics with tweets such as "I don't debate the poor." His passionate followers called themselves "Lunatics." One of his prominent venture capital backers, Mike Novogratz, even had a Luna-themed tattoo of a wolf howling at the moon.
Then Kwon's business crashed. In May, the price of Luna dropped precipitously, bringing TerraUSD down with it. The implosion erased tens of billions of dollars of value and caused a domino effect that led to the collapse of major crypto companies, including FTX, the exchange founded by Sam Bankman-Fried.
Soon, Kwon was the target of criminal investigations. In September, South Korean prosecutors charged him and five others with violating the country's financial laws. Interpol, the international police organization, issued a "red notice" demanding his arrest. Police in Singapore also said they were investigating Kwon.
According to the Interpol office in Seoul, South Korea, Kwon arrived in Singapore in April, before leaving for the UAE in September, the month that South Korea issued the arrest warrant for him. Investigators believed the trip to the UAE was a stop on the way to Serbia, where Kwon had been in hiding with Han Chang-joon, Terraform's former chief financial officer.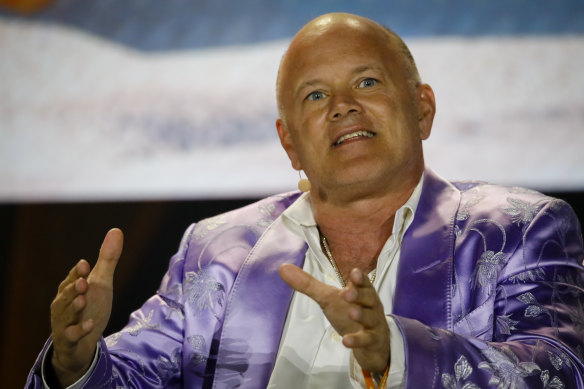 Even after Luna's epic collapse, Kwon believed he could make a comeback in the crypto industry and unveiled a new digital coin. He told an acquaintance that he aimed to make his coin one of the 10 most valuable cryptocurrencies, without linking it to a stablecoin, according to a person familiar with his thinking.
After Bankman-Fried's company collapsed, Kwon started posting frequently on Twitter. On December 7, he linked to a Times article that reported that the Justice Department was investigating whether Bankman-Fried had engaged in market manipulation that caused the collapse of Luna.
"What's done in darkness will come to light," he wrote.
In the recent call with the Times, Kwon said he had launched some open-source projects, using a term that typically refers to software built on code that is made publicly available. "I call it, like, technology philanthropy," he said. "It doesn't really have business models or tokens or anything of that sort."
But the pressure on him was growing. In February, the Securities and Exchange Commission charged him with orchestrating a multibillion-dollar securities fraud. Privately, he confided that he was having a midlife crisis and that he was spending too much time thinking and not enough coding, according to the person familiar with his thinking.
Kwon arrived in Montenegro about 10 days ago, said Dritan Abazovic, the country's prime minister. On Thursday, he went to the airport with Han, his Terraform colleague. They presented passports from Costa Rica, which immigration checks revealed were forgeries.
The Montenegrin police arrested Kwon and Han at 9 am local time and notified the Interpol bureau in Seoul, asking for confirmation that they had correctly identified them, according to the statement by South Korea's Justice Ministry. A fingerprint match confirmed their identities.
During the arrest, Montenegrin authorities confiscated the travel documents, as well as several mobile phones.
Kwon spent Thursday night in police custody. After the arrest, he was photographed being led into a police vehicle in Montenegro, wearing a gray Nike sweater and sweatpants. He was scheduled to appear in court Friday evening, according to his local lawyer, Branko Andelic. A representative for Kwon and Terraform Labs did not respond to a request for comment.
Loading
The next step in the case is likely to involve extradition, a complex legal process that can sometimes take months to unfold. Nick Biase, a spokesperson for the US attorney's office for the Southern District of New York, said prosecutors in the United States were seeking Kwon's extradition. The South Korean government said Friday it was also planning to have Kwon extradited.
"We will see what is the first request, and after that we are ready to make the extradition to the country which is looking for him," Abazovic said in the interview.
Whatever Kwon's ultimate fate, the news of his arrest was greeted with celebrations in the crypto community, where he has become a deeply unpopular figure since the collapse of Luna and TerraUSD.
"I've been waiting for this moment for a long time," tweeted one account that has tried to mobilise victims of the Luna crash.
This article originally appeared in The New York Times.
The Market Recap newsletter is a wrap of the day's trading. Get it each weekday afternoon.