"So from there that will make up my mind whether I'll continue to play Test cricket and all three forms."
After the three-match South African series, Australia will play four Tests in India, where Warner averages 24, and England, where he averages 26, including 95 runs at 9.5 during the last Ashes tour when Stuart Broad had by far the better of him.
Warner needs just 81 runs to become the eighth Australian to score 8000 career runs and two more Tests to be the 14th Australian to play 100 Tests. Significantly, he has a strike rate of 71, which is imposing for Test cricket.
Of his 24 centuries, 18 have been made in Australia and three came during an exceptional 2014 tour of South Africa. Two were made on the 2017 tour of Bangladesh and one came against Pakistan in the UAE, also in 2014. It has been seven series since he has matched or bettered his career average of 46, when he made his last century, against New Zealand almost three years ago.
Unlike Aaron Finch during the T20 World Cup, Warner has not looked out of form but has found some unfortunate ways of getting out. Three times in a row against the West Indies he was dismissed chasing wide balls.
He scored a run-a-ball century in a one-day match against England at the MCG three weeks ago.
McDonald was unable to say whether Warner's age was a factor.
"If we keep picking him and he makes runs, then you know he's back," McDonald said.
"And if you keep picking him and he doesn't, then he's probably on the fade. I think it's as simple as that.
"He's in our plans for the immediate future, and we'll see what unfolds from there."
David Warner's Test performances in 2022
30 (72) v England, Sydney, January
3 (18) v England, Sydney, January
0 (22) v England, Hobart, January
0 (3) v England, Hobart, January
68 (114) v Pakistan, Rawalpindi, March
36 (48) v Pakistan, Karachi, March
7 (16) v Pakistan, Karachi, March
7 (13) v Pakistan, Lahore, March
51 (91) v Pakistan, Lahore, March
25 (24) v Sri Lanka, Galle, June
10* (4) v Sri Lanka, Galle, June
5 (13) v Sri Lanka, Galle, July
24 (44) v Sri Lanka, Galle, July
5 (16) v West Indies, Perth, November
48 (71) v West Indies, Perth, November
21 (29) v West Indies, Adelaide, December
28 (36) v West Indies, Adelaide, December
McDonald insisted he was not concerned about Warner's batting "at this stage".
"His appetite for the work, in and around training is still there," McDonald said. "He's busy at the crease and you've seen signs that he is going well. He's just found different ways to get out and sometimes that can happen.
"He's eager to continue on at this stage. He hasn't hinted anything else. We are building towards a World Test Championship as well, and he wants to be part of that so that's a clear focus for us and we've got South Africa as a part of that. And then on to India.
"So there's no indication of anything else at the moment."
Nor was McDonald concerned that Warner had been distracted by the furore caused on the eve of the Adelaide Test when he abandoned his bid to have his leadership ban overturned in the wake of the drawn-out review of the penalty that was imposed after the 2018 Cape Town ball-tampering scandal.
"I think he's shown in the past that he can move forward pretty quick," McDonald said.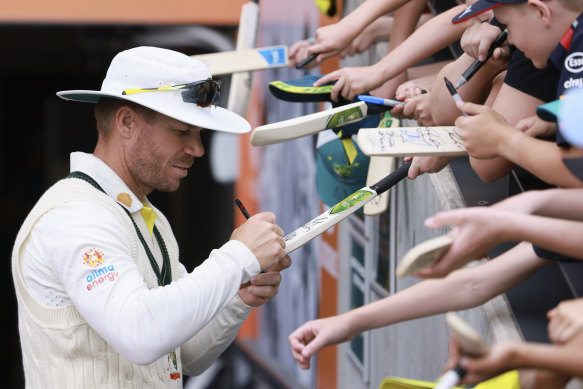 "He's great at compartmentalising, separating the off-field from the on-field and I think most of the great champions do that very well. I sense this situation is no different.
Loading
"We respect and understand David's decision to withdraw from that appeals process.
"He's moved forward, we're moving forward as a team and we've got a seriously good opponent confronting us at the Gabba so our focus is firmly on that. And so is David's."
Sports news, results and expert commentary. Sign up for our Sport newsletter.