Quito: Juan Vera lost three relatives when a strong earthquake that shook parts of Ecuador and Peru on Saturday brought down his niece's home. The government has offered to pay for the woman's funeral and those of her baby and her partner, but Vera wonders why local authorities allowed his relatives to live in such an old home to begin with.
"Because of its age, that building should have been demolished already," Vera said outside the morgue in Ecuador's community of Machala, where he was waiting for the three bodies to be released. "I'm sorry, the mayor's office is the entity that has to regulate these things through its planning departments so that the buildings are in good condition to be rented out or inhabited."
The earthquake with about 6.8 magnitude, as reported by the US Geological Survey, killed at least 15 people, injured hundreds and brought down homes and buildings in vastly different communities, from coastal areas to the highlands. But in Ecuador, regardless of geography, many of the homes that crumbled had a lot in common: They housed the poor, were old and did not meet building standards in the earthquake-prone country.
The earthquake centred just off the Pacific Coast, about 80 kilometres south of Guayaquil, Ecuador's second-largest city. One of the victims died in Peru, while 14 others died in Ecuador, where authorities also reported that at least 381 people were injured and dozens of homes, schools and healthcare centres were damaged.
The office of Ecuadorian President Guillermo Lasso reported that 12 of the victims died in the coastal state of El Oro and two in the highlands state of Azuay.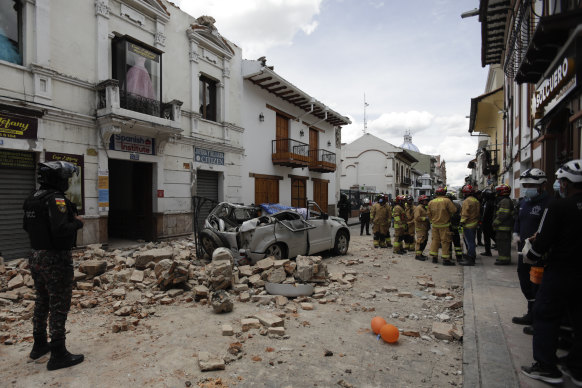 One of the victims in Azuay was a passenger in a vehicle crushed by rubble from a house in the Andean community of Cuenca, according to the Risk Management Secretariat, Ecuador's emergency response agency.
In El Oro, the agency also reported that several people were trapped under rubble. In the community of Machala, a two-storey home collapsed before people could evacuate, a pier gave way and a building's walls cracked, trapping an unknown number of people.
Quito-based architect Germán Narváez said the houses most affected during earthquakes are those with deficient construction and that lack foundation, structure and technical design. He added that the houses are also old and built with materials such as adobe, which was once frequently used in Andean communities.