Key events
FULL TIME: Everton 0-2 Leicester City
A few boos ring around Goodison as the whistle goes. Brendan Rodgers celebrates victory on this ground for the first time in his career … and it's enough for his Foxes to leapfrog the hosts in the Premier League table!
90 min +3: Maddison nutmegs Garner in the centre circle before sliding Barnes clear down the inside-left channel. Barnes opens his body but can't sidefoot past Pickford.
90 min +2: Everton go nowhere.
90 min +1: The first of three extra minutes sees Leicester substitute Tielemans for Mendy.
90 min: On Sky Sports, Jamie Carragher names James Maddison as player of the match. Few would argue. He's been superb all evening.
89 min: Gray wins a corner off Albrighton. The set piece causes a brief brouhaha in the Leicester box. Maupay tries to force home from six yards but the ball breaks to Faes who clears.
88 min: Everton probe again. Leicester continue to hold their shape.
87 min: As things stand, that goal will send Leicester above Everton in the table.
GOAL! Everton 0-2 Leicester City (Barnes 86)
Everton pass it around quite a lot. Leicester hold their shape. Coady lumps forward. Leicester clear, Doucoure gives up possession easily, then the visitors counter. Maddison skedaddles down the left, enters the box, and pulls back for Barnes who, with his back to goal, spins on the penalty spot and lashes high and hard into the top left. Pickford no chance with that one either!
84 min: Faes rises highest to meet the corner, but sends a weak downward header straight at Pickford. Both sets of fans have fallen a little quiet, anxious for different reasons.
83 min: Tielemans and Vardy shuttle the ball wide right to Albrighton, who hits a shot-cum-cross that's deflected out for a corner. Maddison ambles across to take it, as the clock ticks on.
81 min: Gray works his way down the left and crosses deep, forcing Justin to head behind for a corner. Everton waste the set piece, Garner's delivery no good. The ball ends up in the arms of Ward, who eats up some precious seconds by performing Pickford's trick of ostentatiously lying down on his front. Pantomime whistles.
80 min: Maddison, quarterbacking from deep, sends a spectacular diagonal pass towards Albrighton on the right. Everton are short at the back, but Mykolenko is on hand to intercept and head back to Pickford. Mykolenko has been very good tonight. Always on point.
78 min: Dewsbury-Hall, who has been highly decent tonight, is replaced by Albrighton. Speaking of easy-on-the-eye midfielders, here's Matt Dony: "I don't think this is a controversial opinion, but I love Maddison. He's a tremendous player, entertaining, creative and effective. It's a crime that he only has one cap. If I were Southgate, I'd want to bring him to the World Cup. But, who can he leave out to make room for him? England are so ridiculously well-stocked with attacking midfielders. I'm not English, and I have no particular connection with England, but it does feel like the inherent pessimism and negativity of the average England fan is a barrier to appreciating exactly how many really, really good attacking players they have at the moment. (When it comes to central defence, however, those fans are correct.)"
76 min: Maddison and Justin combine to release Dewsbury-Hall into the Everton box down the left. He reaches the byline and wedges into the centre. Mykolenko clears with a diving header under pressure from Vardy.
75 min: Patterson and Gordon have both looked lively since coming on. They try to unlock Leicester with a one-two down the right, but the passes don't quite stick. Justin ushers the ball out for a goal kick.
73 min: Gordon comes crunching in on Justin. The Goodison crowd enjoyed that. They don't quite enjoy Gray shipping possession so much. Groans as Barnes springs off on the counter, reaching the edge of the Everton box before shooting weakly. Pickford saves.
71 min: Leicester make their first changes of the evening, swapping out Daka and Soumare for Vardy and Ndidi. Meanwhile Everton make their final switches, replacing Coleman and McNeil with Patterson and Gordon, the latter coming on with a slip of paper for Tarkowski. Some tactical advice, I'll be bound.
69 min: Faes passes long down the middle. Maddison nearly brings the ball down with a telescopic leg, but can't kill it dead, and Pickford rushes out to claim.
67 min: Ward, with the ball at his feet on the edge of the Leicester area and Iwobi bearing down, executes a marvellous Cruyff Turn to wriggle away from trouble. One for the showreel.
66 min: Some space for Gray down the right. He looks for Maupay in the middle, but the cross is poor, and an easy snaffle for Ward.
64 min: McNeil dribbles hard down the left flank and enters the box. His low cross falls to Maupay, who shoots from the left-hand corner of the six-yard box … only for Faes to arrive from nowhere and divert the shot wide left of goal. That last-ditch challenge denied Maupay the equaliser, and Ward clears the resulting corner.
63 min: Doucoure's first act is to carelessly barge into Faes with the Leicester defender pinned near the corner flag. Pressure off. The Goodison crowd howl in agitation.
61 min: Calvert-Lewin goes down clutching his leg. He's not going to be able to continue. His England World Cup hopes going up in smoke on Bonfire Night? He trudges off down the tunnel, head hanging sadly. Maupay comes on in his stead. Everton also switch out Onana for Doucoure.
59 min: Maddison spins past McNeil and strides down the inside-right channel. He sends a low curler towards the bottom right, past Pickford, and … off the base of the post. Goal kick. So close to number two!
58 min: Maddison bangs a long ball upfield. Daka is going to get to it first, ahead of Pickford, who has foolishly raced miles out of his box. Luckily for the Everton keeper, Mykolenko fights to get in the way of Daka, taking over possession and shepherding both ball and player away from danger. Pickford sheepishly trots back to his penalty box.
56 min: More poor work by Castagne, who ships possession to Garner just outside his own box. Garner can't take advantage. Leicester try to break, but the ball clanks between Barnes' feet on the edge of the Everton box and Iwobi slides in to clear. It feels like another goal is in the pipeline, but good luck correctly predicting the team to score it.
54 min: Coady lumps forward aimlessly. Castagne, with nobody around, clanks a header out for a corner. Tarkowski releases the pressure by planting his forearm on Ward's neck. All said, not the most distinguished period of play.
53 min: Calvert-Lewin very nearly intercepts Soumare's header back to Ward. There's just enough juice on the ball to make it through to the keeper. Calvert-Lewin nearly sniffing out a gift.
51 min: Amartey curls a lovely ball down the right from the halfway line, releasing Daka, who gets to the ball on the edge of the box ahead of Pickford, but blooters his first-time shot miles wide and high. For a second, Evertonian hearts would have been in mouths.
49 min: Iwobi nearly fashions a chance for himself down the inside left, but the ball trundles through to Ward. This is better from Everton.
48 min: Dewsbury-Hall sashays up the left in the grand style, but tries one trick too many and is dispossessed by Gray. Everton counter, Gray and Iwobi combining down the inside-right channel, and suddenly the ball's forced through to Calvert-Lewin in the middle. He's clear! But he can't thread his shot past the star-jumping Ward, and that's a great save.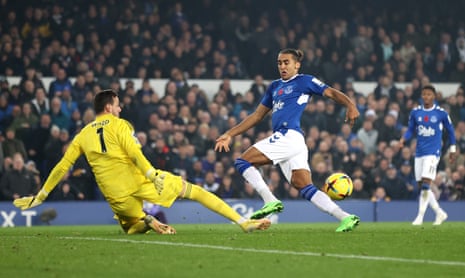 46 min: Everton are immediately on the front foot, Mykolenko's presence down the left forcing Maddison into the concession of a corner. The ball rears up onto Tielemans chest … or is it his arm? Everton claim the latter, the referee decides (correctly) the former. Leicester break through Barnes, but nothing comes of an initially promising counter.
Everton get the second half underway. The hosts have made a change, switching out Gueye for Garner.
Half-time entertainment. There's a World Cup coming up, and the team guides are beginning to drop. Don't shilly shally, it'll be here before you know it.
HALF TIME: Everton 0-1 Leicester City
Everton try to hit back immediately, McNeil winning a header ten yards out, Onana trying but failing to latch onto the dropping ball. But Leicester clear, and the whistle goes for the break. The scoreline doesn't flatter Leicester, who have been the better team … and what a goal. A few boos as Everton, toothless in the main, trudge off.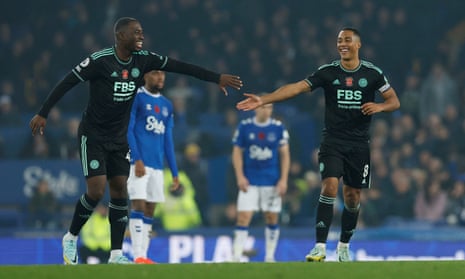 SENSATIONAL GOAL! Everton 0-1 Leicester City (Tielemans 45)
Dewsbury-Hall sends Barnes off down the left. Barnes pulls the ball back. Some pinball. Maddison knocks the ball back towards Tielemans, teeing him up for the spectacular. Just to the right of the D, Tielemans flicks the bouncing ball up with his thigh, before sending a looping volley into the top-left corner, giving Pickford absolutely no chance. What a wonder goal! Le Tissieresque!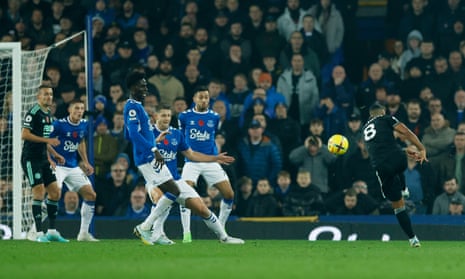 44 min: This being Bonfire Night, a lot of fireworks have been set off tonight. One rocket finds its way onto the field of play, and the referee stops the game so the debris can be collected. Then, seconds after the restart …
43 min: A couple of crosses from the Everton left. Mykolenko to the diving Iwobi, who clanks his header into his own man Calvert-Lewin. Then again for Calvert-Lewin, who eyebrows weakly wide.
42 min: Tarkowski dummies a ball pinged down the Leicester left. He thinks it'll go all the way through to Pickford, but instead Daka latches onto it and has a belt from just inside the area. Pickford does well to parry.
41 min: Coleman wins a corner down the right. Onana rises highest but can't stop his header from 12 yards sailing harmlessly over the bar.
39 min: The resulting corner's worked long to Tielemans, who curls in from the right. Castagne can't keep his header down at the far post.
38 min: Maddison dances across the face of the Everton box, right to left, sitting Coleman down and threading a shot towards the bottom left. A little dink off Onana, and it's a corner. Inches wide of the post.
36 min: Iwobi nearly breaks through the middle of the Leicester defence. The ball pings towards Amartey, who instead of blootering clear, drops a shoulder and executes a cute little dragback to see off Calvert-Lewin's press, then passes away from trouble. "Oh ho ho, Bobby Moore!" chirps Jamie Carragher on Sky co-commentary. Yep, it was as cool and smooth as that.