'The best way to honour him was to make something that was truthful to us'
Article content
Following up one of the biggest superhero movies of all time would have been daunting in its own right. But after the death of his leading man, Chadwick Boseman, Black Panther writer-director Ryan Coogler pondered stepping away from the Marvel Cinematic Universe for good.
Article content
"I was in shock," Coogler, 36, says from Los Angeles as he recalled his early reaction to Boseman's tragic death in 2020 just weeks before he was due on set to reprise his role as King T'Challa/Black Panther in the Marvel follow-up.
Article content
"I didn't like how I was feeling and I didn't like how much it hurt. I thought, 'If I can get so close to someone through this work, I don't know if it makes sense to keep doing it.'"
Released in 2018, the big screen solo introduction to the hero originally conceived in 1966 by Stan Lee and Jack Kirby was a best picture Oscar nominee and a global box-office hit. Set in the fictional African nation of Wakanda, the stand-alone story enthralled audiences with its tale of a young king forced to don the indestructible vibranium Black Panther suit following his father's assassination.
Article content
After becoming the first Marvel film to feature a predominantly Black cast, Coogler's continuation would have seen Boseman's T'Challa dealing with the fallout from the events of 2019's Avengers: Endgame.
Instead, following Boseman's death from colon cancer, Coogler and returning co-writer Joe Robert Cole rewrote the script for Black Panther: Wakanda Forever (out Friday) after Marvel opted not to recast the part.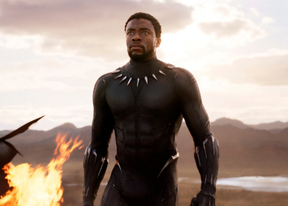 The day after the film's Hollywood premiere, Coogler, who got his big break with 2013's Fruitvale Station before going on to write and direct 2015's Creed, insists his statements about wanting to quit movie-making were just the grief talking.
"I was able to let that feeling pass and come back to my senses. I was able to observe the lessons that Chad taught me in our interactions, and also the lesson he taught me in the way that he chose to go out," Coogler says softly. "As soon as I allowed myself to think about it like that, I knew we had to get back to it."
Article content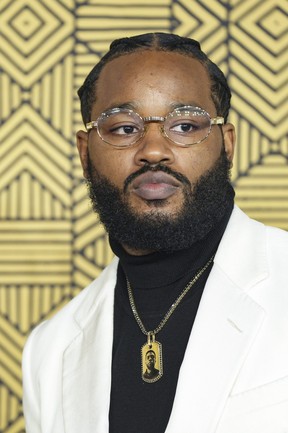 Wakanda Forever is the final film in Phase Four of the ongoing Marvel Cinematic Universe. It finds T'Challa's home country threatened by global powers seeking to exploit vibranium for their own military gain after the king's death.
As Queen Ramonda (Angela Bassett), Princess Shuri (Letitia Wright), Nakia (Lupita Nyong'o), Okoye (Danai Gurira) and M'Baku (Winston Duke) grieve their loss and search to find a way for their kingdom to heal, the villainous underwater mutant Namor (Tenoch Huerta) emerges as a threat both to the nation and their brand-new ally — Riri Williams, a.k.a. Ironheart (Dominique Thorne).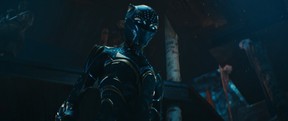 The result is a sprawling entry that pays tribute to Boseman while paving the way for a bold new future for the story's other heroes, including characters that formerly belonged to Fox prior to Disney's acquisition of the studio in 2017.
Article content
"I'm thankful — and all of us are thankful — that we got the opportunity to work with him," Coogler told Postmedia of creating a sequel without Boseman.
In a video call on a recent Saturday evening, Coogler spoke about how the new film honours Boseman, why he chose Namor to be the villain and just how much attention he pays to the intense fan scrutiny that comes with directing a Marvel movie.
Wakanda Forever is an emotional and thrilling watch. How did you and the cast set about to honour Chadwick's legacy with this movie?
"Through the work. We wanted to honour Chad by doing work that was honest. Work that was ambitious. Work that felt truthful. Work that felt inspirational. We wanted to honour him through the way that we got to meet him. He was a guy that was working all the time. The only way I was going to have a chance to meet him was to work with him. So the best way to honour him was to make something that was truthful to us."
Article content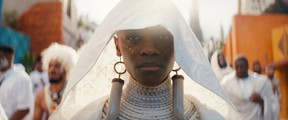 Namor is such an interesting choice as the villain and antagonist in the film. How did you settle on him?
"The choice to make Namor the antagonist for this film was fairly easy. If you're familiar with the publishing runs, of all the great writers that have contributed to T'Challa and Wakanda's lexicon, Namor really pops. His conflict with T'Challa and Shuri, and his conflict with Wakanda at large is one of the more interesting things you'll read in the (comics). That was a character that I didn't think we were contractually able to use (in the first Black Panther). The studio was settled on a film where Killmonger and Klaue were the antagonists and I thought that was a great idea so we went in that direction. But Namor was someone I was always thinking about. What's interesting about him is that he is one of the oldest (comic book) characters. He's been around since the 1930s. But strangely enough, there's been no representation of him in cinema or television. So it was a very rare opportunity that I didn't want to pass up."
Article content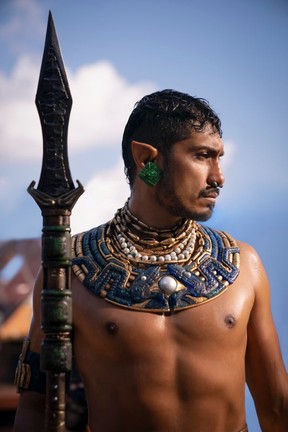 I'm having so much fun reading about all the Easter eggs on Reddit. Do you go online and check out some of the stuff people are writing about?
"I don't. My personal relationship with the Internet is that it's a double-edged sword. One side is positive reinforcement and motivation, and the other side is unhealthy for a creator … It can be dangerous to get in there and read that stuff, especially while we're in the process of delivering the work and completing it … but have you seen some cool stuff out there? Tell me what you saw."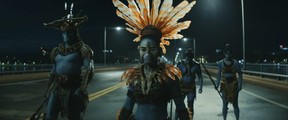 There's a lot of theories where people are trying to draw connections to other Marvel characters … so let me throw a name out there for you and tell me what comes to mind: Doctor Doom.
"He's one of the big ones. But unlike Namor, there have been several different interpretations of him in film. So I think that's what excited me most about Namor — there hadn't been any representations of him and so there wasn't baggage with other actors having played him before. Doom is a little different when it comes to that. But he's an incredible character. He's often on people's lists of favourite characters overall, not just villains. So I understand people wanting to see Doom represented."
Black Panther: Wakanda Forever opens theatres Friday, Nov. 11.
mdaniell@postmedia.com
Twitter: @markhdaniell
'Black Panther' director Ryan Coogler didn't worry about setting up 'Infinity War'

Black Panther director Ryan Coogler 'bugged' by one big character death

'Black Panther' preview: Your complete guide to Marvel's next blockbuster