Jack (Leo Woodall) – The Love Island look
Poor Jack, played by Leo Woodall, is everybody's favourite holiday fling, until the next morning. Bovaird's Love Island inspiration comes through loud and clear, with fitted shirts and tantalising short shorts, popular with contestants on the reality-adjacent dating show.
We are happy to leave Jack's Superdry shirts rolled up on his uncle's bedroom floor, along with his patterned boxer briefs and his Goorin brothers Rooster trucker cap but his tonal shorts and shirt combination has serious merit
A combination of wild patterns is fine for the work Christmas party but could be mistaken for a romper suit, so seek something with minimal detailing like Jack's Western-inspired shirt or a singular printed style, and keep it untucked.
Subdued Hawaiian prints or florals with a restrained palette, present an image of modern masculinity, even if what lurks inside is a troubled boy.
Matching sets are also perfect for holiday packing, with the shirt doing double duty with jeans, trousers or cargo pants for the full Love Island effect.
Albie Di Grasso (Adam DiMarco) – Nice guy normcore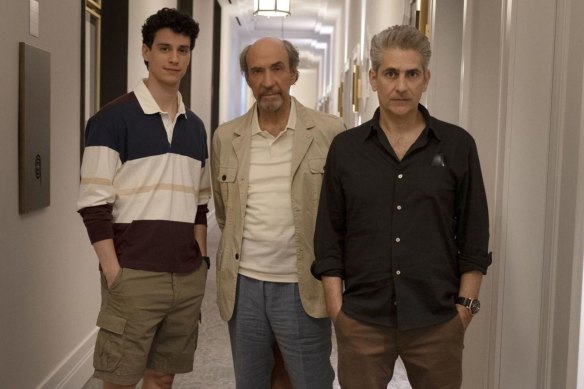 When Albie, played by Adam DiMarco, keeps his sports socks on during an intimate encounter, Bovaird is telling us that this young man is still finding his way in the world. This is not a style trick to follow, unless poor circulation keeps your feet like mood-killing ice blocks.
One of the few things Albie gets right on his entire holiday is his commitment to all American basics, right down to his New Balance sneakers.
The cargo shorts should have stayed at home and are a trap for constantly checking all six pockets for your hotel key, or whether someone has taken your wallet.
Ignore the Goldilocks size of Albie's rugby shirt, not small enough to be fitted or big enough to be oversized but ultimately basic. Take a risk by going to one extreme and ignore the in-between. Just make sure that you have a rugby top in your wardrobe.
Loading
The retro appeal of rugby shirts is on the rise thanks to New York boutique Rowing Blazers, which is popular with Justin Bieber and content creator Jake Krantz.
For summer wear, look for rugby tops in a lighter gauge, especially if you're layering with a T-shirt. Long sleeves make them great for summer nights when the temperature drops or the mosquitoes surface.
Invest in a high-quality rugby shop, so it lasts more than a few nights, but stop short of $50,000.
Make the most of your health, relationships, fitness and nutrition with our Live Well newsletter. Get it in your inbox every Monday.