Despite Trump's claim that he would be arrested and indicted on Tuesday, the former president remains a free man and has spent much of the week at his Mar-a-Lago resort in Florida ahead of a planned rally on Saturday in Waco, Texas.
Loading
After being instructed to stay at home on Wednesday, the grand jury returned for a meeting on Thursday but was expected to delve into other cases on its books and not discuss the Trump probe, potentially delaying a vote on a possible indictment into next week. The group will meet again on Monday.
In a statement released later, a defiant Trump suggested without evidence that the case against him was falling apart.
"Total disarray in the Manhattan DA's Office," he wrote. "Tremendous dissension and chaos because they have NO CASE, and many of the honest people in the Office know it, and want to do the right thing."
Because grand jury investigations are shrouded in secrecy, it is not clear why the group did not meet as planned, or why the Trump inquiry may be further delayed.
On Monday Trump team brought in a fresh witness who spent the day debunking Cohen's previous evidence. The witness was attorney Robert Costello, who has represented Trump allies Steve Bannon and Rudy Giuliani, and was also a former adviser to Cohen himself.
The Republican letter demanding documents and testimony from Bragg was sent by Republican Jim Jordan, James Comer and Bryan Steil, who represent some of the most powerful oversight committees in Congress.
They are among many Republicans who have rallied around Trump this week and hit out at Bragg, a Democrat, branding the hush-money case yet another example of the "weaponisation" of law enforcement agencies.
The investigation is one of several into the former president, but is also seen by legal experts as the weakest. The other probes include a Department of Justice investigation into the events of the January 6 Capitol attack; a Georgia-based investigation into election interference in that state; and another Justice Department investigation into the handling of classified documents.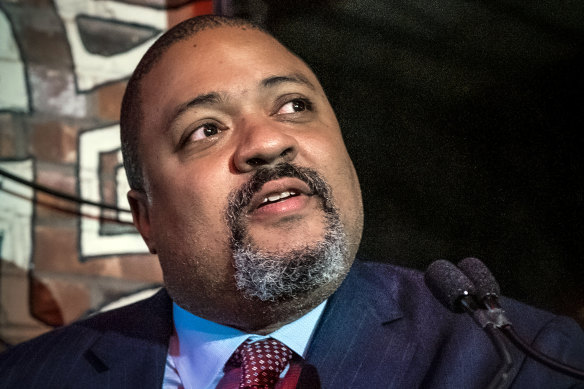 Some Democrats have also warned that the Manhattan inquiry could backfire, while others are refusing to say where they stand.
New York-based Senate Majority Leader Chuck Schumer, for instance, declined to say whether he has confidence in Bragg, simply stating "it's premature to comment on what's happening and we'll have to wait and see what he does".
West Virginia Senator Joe Manchin told reporters that an indictment could "basically have the reverse effect as what some people would think, not for the good".
Loading
"There's many reasons why Donald Trump should not be president again of the United States, but you should not allow the court system to be viewed as a political pawn," he said.
Get a note directly from our foreign correspondents on what's making headlines around the world. Sign up for the weekly What in the World newsletter here.