Meadows across 100 historic sites in England, from the panoramic ruins of Scarborough Castle to the chalk down landscape of Stonehenge, are to be created or enhanced in a 10-year project celebrating the king's coronation.
English Heritage on Friday announced its ambition to return landscapes at 100 of its sites to how they once would have looked.
John Watkins, English Heritage's head of gardens, said the scale of meadow loss across the whole UK was startling. "The one shocking figure is that 97% of meadows that were recorded in the 1930s had been lost by the mid-1980s," he said. "That's not just a biological disaster, it's a cultural disaster."
The loss of the nation's meadows is largely because of postwar modern farming practices.
The grassland around English Heritage-managed historic monuments has often been "municipalised", said Watkins, diminishing the botanical diversity enjoyed by earlier generations.
"Think of all the quotes throughout Shakespeare of the flowers that were common … these aren't extraordinary things," he said. "These are things that would have been common that are now unusual so it is exciting to have the opportunity to bring back a diverse ordinary.
"If we get that diversity back with the plants, then it will attract insects and the butterflies that then attracts the amphibians and the birds and other mammals. The lark can sing again over a site that hasn't had a lark on it … it's that sort of thing about it which is, I think, wonderful."
English Heritage has partnered with Plantlife, Europe's largest charity dedicated to saving wildlife and fungi. Watkins said a key component of the initiative was involving and engaging with communities around each meadow site.
Different approaches will be made at different sites to make sure, among other things, that locally specific wildflowers are introduced.
Some meadows will be new ones, others enhanced, like the meadow which a team has already started to establish at Barnard Castle in County Durham – a crumbling 12th-century fortress which saw a record rise in visitor numbers after gaining notoriety as the destination of Dominic Cummings on a lockdown mission to test his eyesight.
Visitors to St Mary's Church in Kempley in the Forest of Dean should this weekend still see a locally native daffodil that was once far more prevalent. The plan there is to encourage the increase of the daffodils and other grassland wildflowers.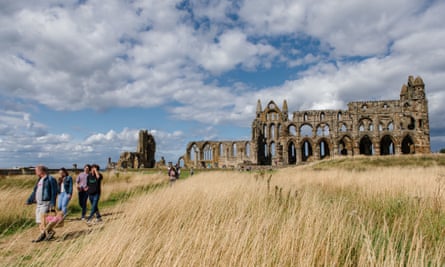 At Down House in Kent, the home of Charles Darwin, the acres of meadows where he observed plants and insects were ploughed over in the 1970s, seen then as a good thing.
But it was in those meadows that Darwin encouraged his children to watch for bumblebees buzzing from plant to plant and discovered that red clover depends on bees for fertilisation.
Since English Heritage took over, the fields have been reverted to traditional hay meadow management and gardeners will continue to enhance them, including developing the presence of orchids.
At Stonehenge, wildflowers including orchids can be found in grassland near the stones. A new meadow is planned for an area outside the visitor centre to welcome people as they arrive.
The 100 sites also include Norham Castle in Northumberland, Tintagel Castle in Cornwall, Dover Castle in Kent, Whitby Abbey in North Yorkshire, Kenilworth Castle in Warwickshire, Tilbury Fort in Essex and Okehampton Castle in Devon.
Kate Mavor, English Heritage's chief executive, said the king's coronation in May was a significant moment in history and they wanted to mark it in a meaningful way to mark King Charles' passions – nature and heritage.
"We're creating more natural spaces at the heart of our historic properties, ensuring that wildflowers and wildlife can flourish there once again, and helping our visitors to step back into history and experience something with which the sites' historic occupants would have been familiar."
Ian Dunn, chief executive of Plantlife, said: "This new and exciting partnership offers a lifeline to 100 key grassland sites and their associated wildlife, and focuses on a chapter of English natural history lost and all but forgotten."