The number of parking tickets issued by private companies has hit a record high, according to figures published this month.
An analysis of Driver and Vehicle Licensing Agency data by the PA news agency shows the number of parking tickets issued by private firms in Britain soared by 24% in the second half of 2022 to reach 5.7m – an average of about 31,000 every day.
If you think you have been given an unfair ticket, what can you do to challenge it? Here we outline your options.
Check what type of parking ticket it is
First, establish whether the fine is from an organisation such as a local council, or from a private company.
The consumer and motoring disputes expert Scott Dixon claims that these often "look identical", and that this "is done deliberately to confuse motorists".
He adds: "It is important that people understand the differences."
The wording on the ticket can help you work it out. A penalty charge notice (PCN) or fixed-penalty notice (FPN) mean it is an "official" fine, which will have a different appeals procedure to a private company ticket.
Meanwhile, a private firm will give you a parking charge notice.
Once you have worked out what kind of fine you have been hit with, you can take the first steps to appeal.
Respond quickly
Regardless of which kind of ticket you have been given, it is important to take action.
Councils will typically offer you a reduced fine if you pay within 14 days. If you appeal, and this is unsuccessful, you should still be able to pay the lower amount.
Some people might think that fines by private firms can be treated less seriously and maybe do not have to be paid. However, if you ignore the fine, it could be passed on to a debt collection agency.
Barrie Segal, the founder of Appeal Now, said: "What tends to happen is people get very frustrated and annoyed. I've had cases where somebody has torn up the parking ticket and can't read it to appeal, or where people have put the parking ticket in a drawer and forgot about it, and suddenly they've got to the next stage."
Make sure it is correct
Make sure all the details on the ticket are correct, as it could be void if there is a mistake. For example, check the location and time match up with where you were parked.
Gather your evidence
Provide as much as possible. This could include anything with a time stamp, such as a receipt from your shopping, a work log or photographs.
If you get back to your car and find you have been given a ticket, take photos of signs and road markings.
Segal says: "Always look at the signs for starters. Are they clearly displayed, have you been given sufficient guidance to make an informed decision? That's the crux of it."
Councils should also consider any mitigating circumstances. For example, if you had to attend a hospital appointment that ran over, meaning you were late back to your car. Record any evidence of these mitigating circumstances, as they will form part of your appeal.
If that isn't possible, the next best thing to support your claim would be witness statements.
What is the appeal process?
If it is a local authority PCN on your windscreen, the first step is to write to the council within 14 days of being given the notice to make an informal appeal, explaining why you think the fine should be cancelled.
If it accepts your appeal, the fine will be cancelled. However, if the informal appeal is rejected, you will be sent a letter and a form called a notice to owner.
At this stage, you have to decide whether to pay the fine at the reduced 50% rate, or you have 28 days in which to make a formal appeal.
If this appeal is unsuccessful, you will receive a notice of rejection.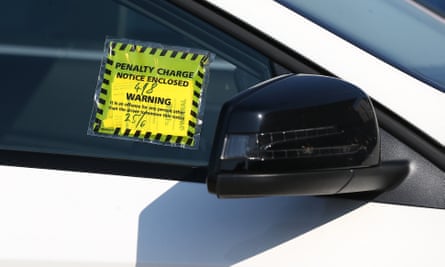 The final tool at your disposal is to challenge the decision at an independent tribunal.
You should pay your PCN if the independent tribunal disagrees with your appeal. If you don't pay within 28 days, the penalty will go up by another 50%. The council can then take you to court. Your credit rating may be affected, and you may also have to pay court costs.
The process will be different for a private parking company. Check the instructions on the ticket for how to appeal, and be prepared to appeal more than once.
Dixon claims the first appeal will typically be rejected "because that is their business model – if they upheld every appeal, they wouldn't make any money".
According to Citizens Advice, if the firm isn't a member of an accredited trade association, don't contact them unless they write to you first.
Only accredited trade association members can get your name and address from the DVLA – therefore, if a firm is not a member, it won't be able to contact you.
You can check the websites of the British Parking Association or International Parking Community to see if a firm is a member.