Proposed 'Texas Millstone Act' would ban transgender procedures under age 26, open doctors to prosecution
A Texas state representative filed a bill earlier this month that would ban transgender procedures in the state for anyone under age 26 and allow for doctors who provide such treatment to be stripped of their medical licenses and prosecuted.
House Bill 4754, also known as the "Texas Millstone Act," was filed in the Texas House of Representatives by Republican state Rep. Tony Tinderholt on March 10 and referred Wednesday to the House Committee on Public Health.
The Texas bill is modeled and named after the similar Oklahoma "Millstone Act of 2023" filed in that state's Senate in January by Republican state Sen. David Bullard.
The Oklahoma bill prompted large protests at the Oklahoma State Capitol and threats of litigation from the American Civil Liberties Union and Lambda Legal, according to the Washington Examiner.
Omar Gonzalez-Pagan, counsel and health care strategist at Lambda Legal, told the outlet that the bill would "selectively target a population for having no access to this care that is otherwise provided and allowed for other people." The name of the Oklahoma bill has since been changed and its age limit lowered to 18.
DR RACHEL LEVINE SAYS CHANGING KIDS' GENDERS WILL SOON BE FULLY EMBRACED: 'WHEELS WILL TURN ON THIS'
Both bills as originally filed would prohibit health care providers from administering puberty blockers, cross-sex hormones and sex change surgeries to anyone under 26, punishable by a state jail felony.
Those who believe they have been harmed by such procedures can file suit for damages, according to the bills, which would also cut off public funding and Medicaid reimbursement for such procedures.
TEXAS AG PAXTON SEEKS TO PRESERVE ABILITY TO CLASSIFY GENDER-AFFIRMING CARE AS CHILD ABUSE
Tinderholt told Fox News Digital that he had been seeking to draft legislation with the "intent of stopping gender modification and mutilation" in Texas when he came across the Oklahoma bill.
"As we looked at this bill, it had everything we wanted, and it was just a smart idea to replicate [Bullard's] bill versus reinventing the wheel," said Tinderholt, noting that the Oklahoma bill "covers every single thing that anyone could ever think of."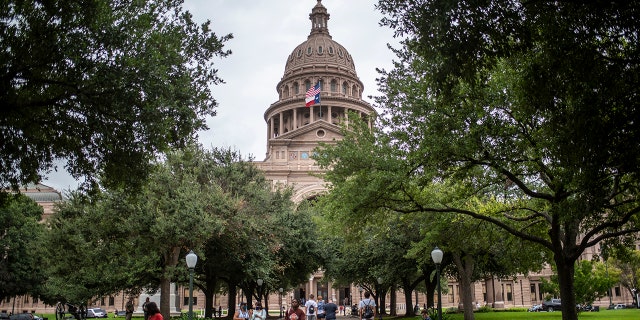 "It talks about social medical care, psychological medical care, physical medication, gender mutilation, this bill covers at all," he said.
BIDEN ACCUSES TEXAS OF 'ATTACKING' TRANSGENDER YOUTH FOR INVESTIGATING GENDER PROCEDURES ON KIDS
Tinderholt said that he did not come up with the name of the bill but said he believes "it's named very well."
The bill's reference to a millstone is an allusion to a sermon by Jesus Christ recorded in the three synoptic Gospels in which he warns against scandalizing children.
According to the version recounted in Matthew 18:6, Jesus said, "But whoever causes one of these little ones who believe in me to sin, it would be better for him to have a great millstone fastened around his neck and to be drowned in the depth of the sea."
CALIFORNIA MOM, ATTORNEY ACCUSE TEACHERS OF 'PREDATORY BEHAVIOR' FOR TELLING 11-YEAR-OLD SHE WAS TRANSGENDER
"I'm not advocating for putting a millstone around anyone's neck and throwing them in the ocean," Tinderholt said. "I'm saying that I think [the name] was specifically derived from showing the importance of how societies have felt over time about innocent children and harming them."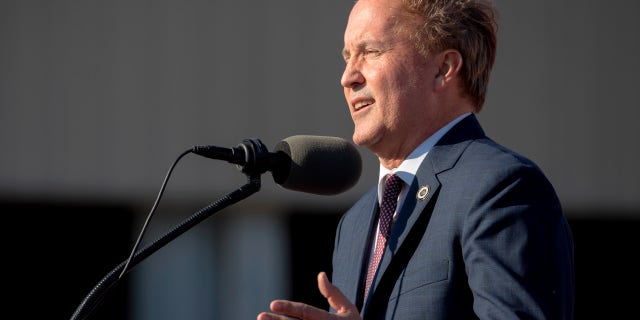 Tinderholt, who noted that banning "gender modification of children" is one of the eight priorities of Texas Republicans in their current legislative session, is confident that some form of law protecting minors from transgender procedures in the state will soon pass.
Both Texas Gov. Greg Abbott and Texas Attorney General Ken Paxton have claimed that transgender procedures on minors could classify as child abuse under Texas law.
CLICK HERE TO GET THE FOX NEWS APP
"I think that we're going to see by the end of May when our 88th Legislature ends, we will have something on the books that will stop the chaos of permanently harming children," he said.