Russia-Ukraine war live: Russian assault on Bakhmut has 'largely stalled', says UK ministry | Ukraine
Key events
Biden and Trudeau vow 'steadfast support' for Ukraine
The US president, Joe Biden, and the Canadian prime minister, Justin Trudeau, have displayed a united front against authoritarian regimes as Biden visited the Canadian capital days after the leaders of China and Russia held a Moscow summit.
Reuters reports that images of Biden and Trudeau standing side by side in Ottawa on Friday announcing agreements including on semiconductors and migration represented a counter point to the scene in Moscow days ago.
There, the Chinese president, Xi Jinping, and the Russian president, Vladimir Putin, professed friendship and pledged closer ties as Russia struggles in its war against Ukraine.
At a joint news conference with Trudeau, Biden questioned the level of China and Russia's cooperation, noting that China has not provided weapons to Russia for use against Ukraine.
Biden said the US had expanded alliances including with Nato, the G7, South Korea and the Quad nations of the US, Australia, India and Japan.
We have significantly expanded our alliances. Tell me how in fact you see a circumstance where China has made a significant commitment to Russia. What commitment can they make?
Addressing Canada's parliament, Biden said that, as Nato members, the two countries would "defend every inch of Nato territory".
Trudeau told the news conference that Ukraine was a top issue:
Today we reaffirmed our steadfast support for the Ukrainian people as they defend themselves against Putin's brutal and barbaric invasion.
Hello and welcome back to our live coverage of the war in Ukraine. This is Adam Fulton to bring you up to speed with the latest developments.
The leaders of the US and Canada, Joe Biden and Justin Trudeau, have met in Ottawa and reaffirmed their "steadfast support" for Ukraine just days after the leaders of Russia and China met for a summit in Moscow.
Biden questioned the level of China and Russia's cooperation, noting that China had not provided weapons to Russia for use against Ukraine.
Trudeau said: "Today we reaffirmed our steadfast support for the Ukrainian people as they defend themselves against Putin's brutal and barbaric invasion."
Meanwhile, Russia's assault on the besieged eastern Ukrainian city of Bakhmut has largely stalled, the UK Ministry's of Defence says.
"This is likely primarily a result of extreme attrition of the Russian force," it said in its latest intelligence briefing. "Ukraine has also suffered heavy casualties during its defence."
More on both of those stories shortly.
In other key developments just after 9am in the Ukrainian capital, Kyiv:
At least 10 civilians were killed and 20 wounded from long-range Russian bombardments in several parts of Ukraine on Friday, officials said. The casualties included two people who died in heavy Russian shelling of the town of Bilopillia in Sumy province in northern Ukraine, President Volodymyr Zelenskiy's office said.

The United Nations has said it is "deeply concerned" by what it said were summary executions of prisoners of war by both Russian and Ukrainian forces on the battlefield. A new report from the UN's office of the high commissioner for human rights said its monitors had documented dozens of the executions by both sides, that the actual number was likely higher and that they "may constitute war crimes".

The Russian former president Dmitry Medvedev said Moscow was readying for a Ukrainian counteroffensive that "everyone knows" Kyiv is preparing for. Medvedev, who is deputy chair of Putin's powerful security council, warned that Moscow was ready to use "absolutely any weapon" if Ukraine attempted to retake the Crimean peninsula that Russia annexed in 2014.

Russian forces attacked northern and southern stretches of the front in eastern Ukraine's eastern Donbas region on Friday. Ukrainian military reports described heavy fighting along a line running from Lyman to Kupiansk, as well as in the south at Avdiivka on the outskirts of the Russian-held city of Donetsk.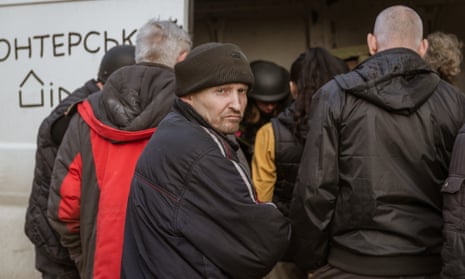 The US president, Joe Biden, has said he believed China has not sent arms to Russia after its invasion of Ukraine. "I've been hearing now for the past three months China is going to provide significant weapons to Russia … They haven't yet," he told a news conference on Friday. "Doesn't mean they won't, but they haven't yet."

Ukraine claimed Russian forces were "running out of steam" in Bakhmut and its commanders have started to raise the prospect of an unlikely turnaround in the besieged eastern Ukrainian city.

Three women were among at least five people killed after a Russian missile struck one of the "invincibility points" providing refuge and basic services for Ukrainian civilians in the eastern city of Kostiantynivka in the Donetsk region, local officials said. The Russians attacked overnight on Thursday with S-300 anti-aircraft missiles, prosecutors said

Air force commanders from Sweden, Norway, Finland and Denmark have agreed to create a unified Nordic air defence aimed at countering the rising threat from Russia, they said. The intention is to be able to operate jointly based on already known ways of operating under Nato, according to statements by the four countries' armed forces. The Danish air force commander, Major General Jan Dam, said: "Our combined fleet can be compared to a large European country."

About 10,000 civilians, many of them elderly and with disabilities, are living in "very dire conditions" in and around Bakhmut, according to the International Committee of the Red Cross (ICRC). Several thousand civilians are estimated to remain in the city itself and be "spending almost the entire days in intense shelling in the shelters", the ICRC's Umar Khan said.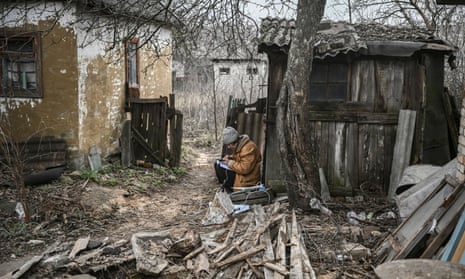 The EU's foreign policy chief, Josep Borrell, has said the "friendship" between China and Russia has limits, and that Europe should welcome any attempts by Beijing to distance itself from Moscow's war in Ukraine. He said China "has not crossed any red lines for us", adding that Beijing's proposals to end the war showed it did not want to fully align with Russia.

The bodies of 83 Ukrainian soldiers killed fighting in the war have been returned from the Russian side, a Ukrainian official said. Separately, Kyiv said it handed over an undisclosed number of seriously wounded Russian soldiers.

Seven Ukrainian children have been reunited with their families after being forcibly taken to Russian-occupied Crimea, the Kherson regional military administration said.

The security situation around the southern Ukrainian city of Mykolaiv will have to improve before its ports can be included in a deal allowing the safe export of Ukrainian grain, a senior Ukrainian official has said. The deal was extended this month, but Kyiv and Moscow differ over how long the extension will last.