Article content
A family is reeling after a man was beaten to death while protecting his stepson from bullies at their Maryland home.
Article content
Christopher Michael Wright, 43, a father of three, was outside his home in Anne Arundel County on May 19 when a group of men showed up following a fight involving one of his children at a nearby middle school, WBAL reported.
Article content
Wright's fiancée, Tracy Karopchinsky, said her 14-year-old son was involved in a fight with another teen earlier that day at Brooklyn Park Middle School and five guys showed up in retaliation.
"Chris came out to tell them, like, he's not coming out here to fight, and they threatened at one point to come in and get him, and then they said, 'If he's not going to fight, then you're going to fight,'" Karopchinsky told the outlet.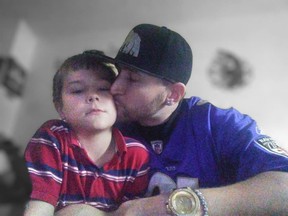 The attackers — three teenagers and two adults — continued to punch Wright, who was already unconscious and bleeding out, before they fled the scene," the Daily Mail reported.
Article content
The deadly beating was caught on a security camera. All three children were home at the time.
"My dad and I tried to go onto the camera to look, and the first video that comes up is my 12-year-old son screaming, 'Daddy, Daddy, Daddy,' and running out of the house into the street to go help his dad," Karopchinsky said. "And I couldn't watch any more after that. I just couldn't."
One of the attackers reportedly told the terrified 12-year-old, "I'm sorry, call 911," before they fled the scene.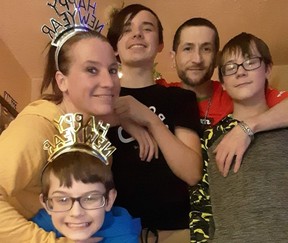 Wright was taken to an area hospital where he died from a traumatic brain injury the next day.
"Just looking at the damage that was done to him, that wasn't just punching that did that," Karopchinsky said.
"The damage was done before the ambulance ever took him away," she detailed. "I mean, he'd had a seizure. It was done. There was nothing that the hospital could do."
Article content
RECOMMENDED VIDEO
The investigation is ongoing.
No arrests have been made but security footage reportedly captured the men involved in the relentless attack.
Police confirmed weapons were not used.
ASK AMY: Daughter's bullying experience affects mom's

HOME INVASION: Father recounts how teen son faced unwanted guests

MANDEL: Dad of bullied son knows heartbreak all too well
A GoFundMe set up by Wright's sister-in-law detailed that he was beaten in the head before it was repeatedly slammed on the concrete.
Wright's last Facebook post was a quote that read, "No matter how good or bad your life is, wake up each day and be thankful you still have one."