"That's the heavyweight decision … we'll see what the future holds.
"If this is the end of my sporting career, it's been a good one."
Williams said he was "embarrassed" by the result, but gave full credit to Hunt.
"I would just love to say it's an honour to share the ring with you, the 'Super Samoan'," Williams said.
"It was humbling, I tried my best but he was too good for me.
"Whatever is written for me is written for me."
Tyson Fury left a brief video message for Williams, which was played just before the fight.
"Get it done, son!"
Yet it was Hunt who went out a winner.
In the early rounds, Williams threw a left jab that often found its target. Hunt's best moments came when he was prepared to walk through it.
Despite seemingly being fatigued, Hunt saved his best for the fourth round and the referee mercifully stopped proceedings.
"I caught him with a right uppercut," Hunt said.
"I don't know if it's his chin, I might just have a lot of power. That's heavyweight stuff, I carry a lot of weight.
"Heavyweights pack a lot of power, a shot like that could have ended anyone."
Meanwhile, Tevita Pangai junior will head into the first day of pre-season training on Monday as a man not to be trifled with.
'TPJ' went into his second professional fight feeling in "the best shape of my life" and so it proved, producing a devastating left hook in the final seconds of the second round to knock out Jeremiah Tupai-Ui cold. There were worrying scenes as the Brisbane debutant lay motionless for several moments before he was finally revived.
The Canterbury forward, by his own admission, had been disappointing in his opening season at Belmore. The 26-year-old made a statement by shedding 12 kilograms in the lead-up to the fight and by landing a bomb that put the NRL on notice.
"It was just a lucky shot," Pangai said.
It's not surprising that Pangai was edgy at the weigh-in. All the other undercard fighters stepped onto the scales without incident, but Pangai and Tupai-Ui almost punched on a day early.
It might have had something to do with the fact he told his Canterbury coach, Cameron Ciraldo, that he was prepared to be sacked if he didn't come in under 110kg – and stay there. Pangai made the cut-off but was hangry.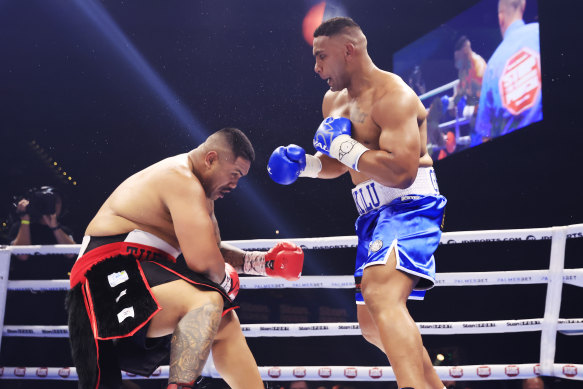 His mood didn't improve once they got into the ring. Tupai-Ui showed some cheek in the opening round, landing some solid hits on the fancied footballer.
"I was shocked, I thought 'what have I got myself into?'" Pangai said.
However, the moment Pangai landed, it was over.
"I did it to go back to the Bulldogs fit and firing," Pangai said.
"It was good to have [Ciraldo] here, I've known him since I was young and I know he will get the best out of me."