Fleming noted that captain Pat Cummins, encouraged by the extra movement, was bowing fuller. Previously, he did not get many wickets lbw. "In the last two summers, his lbs and bowleds have gone through the roof."
Fleming said one pleasing side effect of the changed dynamics was to restore meaning to runs. "One thing I love as a commentator is that you rate runs," he said. "Travis Head's last two summers are super impressive. His two hundreds against England in bowler-friendly conditions were match-winners.
"Without this 90, we probably lose this Test match [against South Africa]. We can legitimately say he has won three Test matches in bowling conditions."
On the fine line that curators walk, bowling conditions sometimes tipped over into obliterating conditions. Test matches in Australia in the last two years typically have been done inside four days, last year's Boxing Day Test finished an hour into the third day and the first South Africa Test last week was over inside two days.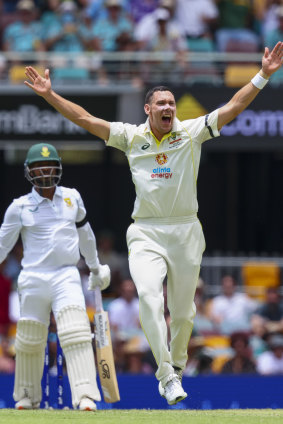 Fleming said he felt for curators. "Curating is a lot like new ball swing bowling. There are controllable factors and non-controllable factors," he said. "The curators can control the grass on the pitch and the rolling, but they can't control the weather."
The pitches in Perth and Brisbane, for instance, have roughly the same clay content and sported a similar coverage of grass for recent Tests, but the Brisbane pitch was harder underneath, making it faster and inflicting carnage on batsmen. For Boxing Day, the MCG is anticipating a good pitch, but less lively than the one for last year's Ashes Test, when Scott Boland made his spectacular debut.
Josh Hazlewood missed Australia's past two Tests because of injury, but if fully recovered will create a pleasant headache for selectors on Boxing Day: him or Boland?
"I'm going with Scott Boland over Josh Hazlewood," said Fleming. "Part of me can't believe I'm saying that because Josh will end up one of our greatest bowlers, if he isn't already.
Loading
"I'm worried about his injury, to that grunter muscle. There is some uncertainty around it. We've got fast bowling depth. We've got a guy who's averaging 10 with the ball. I'd be erring with caution. We've got India. We've got England. We've got a guy who's basically on fire. Big 'Bolo' for me!"
One thing is certain: between a bowler-friendly, bowler-friendly ball and a home crowd, the MCG is certain to be Boland-friendly.
News, results and expert analysis from the weekend of sport sent every Monday. Sign up for our Sport newsletter.