Article content
A third woman has emerged as misogynist Andrew Tate's mystery madam and alleged sex trafficking fixer.
Article content
Romanian media outlet Gandu has identified the alleged accomplice as Ana B.
Article content
According to the publication, it was Ana B. who made the deals and signed the paycheque for the women exploited in Tate's allegedillicit porn factory on the outskirts of Bucharest.
Tate, 36, and his brother Tristan were arrested on Dec. 29 and accused of running a criminal empire from their luxurious redoubt.
The two Tates are accused of sexually exploiting at least six women as part of their operation, which has been called a webcam girl "scam."
Allegedly greasing the notorious operation's wheels were his girlfriend and a Romanian cop turned porn star. The duo were called "Tate's Angels" by locals.
As for Ana, she is reportedly a former casino worker who oversaw the books. Her home was raided last April as part of a widespread human-trafficking probe.
Article content
Investigators began looking into Tate following a complaint from an American citizen to the U.S. embassy in Bucharest. Ana's name does not appear in files prepared by prosecutors, the U.K. Sun reports.
The brothers and the Angels allegedly turned Romanian and Moldovan women into sex slaves who churned out porn from Tate's mansion around the clock. In addition, cops say, they were sex trafficked to wealthy johns in the U.S. and U.K.
His alleged gal pal, American model Georgiana Naghel, 28, has also been arrested. Sources told media the pair had been dating for about a year.
Tate's other aid is a former Romanian cop turned porn star named Luana Radu, 32.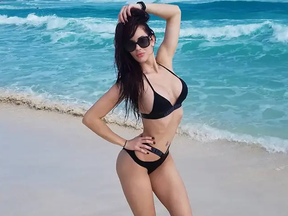 Together, the two women allegedly coerced and controlled the six women, forcing them to perform in online hardcore porn videos. The alleged victims were essentially captives around the clock.
Article content
Local cops say the women were rooked into porn by Tate, who they claim used the "loverboy technique" favoured by pimps the world over.
Allegedly by using "physical violence and mental coercion," the young women were forced to perform sex acts on camera for Tate's worldwide audience.
According to Vice News, Tate was arrested on suspicion of rape in Britain in 2015 before he appeared on reality TV show Big Brother. The website reported he was accused of "violently abusing two women" when he ran a webcam operation in the U.K.
One told Vice that Tate raped her. Both women claimed they had been strangled. U.K. authorities declined to prosecute.
bhunter@postmedia.com
@HunterTOSun